Finsbury wins 'PR Disaster of the Year' award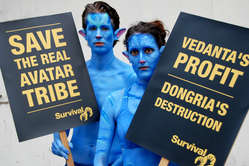 Two Na'vi protested outside Vedanta's

AGM

.
© Survival
On the eve of the PR Week Awards, Survival has presented its 'PR Disaster of the Year' Award to Finsbury PR and its founder Roland Rudd for their work with FTSE-100 mining company Vedanta Resources.
Finsbury is the retained PR agency for Vedanta Resources, which has been the target of a worldwide campaign to stop it building a bauxite mine in the hills of Niyamgiri, Orissa, India. The mine would have had a devastating effect on the Dongria Kondh tribal people who live there.
Survival launched a worldwide campaign against Vedanta's treatment of the Dongria Kondh. The ensuing PR battle in the world's press saw Vedanta's reputation savaged: the company was described in print as 'the most hated company in the world', and the project became hugely controversial.
Survival collected evidence of Vedanta's abuses in Orissa, including its failure to consult the Dongria Kondh. This evidence helped persuade investors, including the Church of England, to disinvest, and led the British government to issue a damning report.
As part of Survival's campaign:
- over 10,000 Survival supporters wrote letters to the Indian government
- 650,000 people saw Survival's film 'Mine, story of a sacred mountain', which went viral online
- Celebrities including Joanna Lumley and Michael Palin spoke out against Vedanta
- Blue Na'vi from James Cameron's blockbuster 'Avatar' protested against Vedanta, inspiring massive international interest as the pictures spread around the world.
On 24th August the Indian Environment Minister Jairam Ramesh blocked the mine, declaring that the company had shown 'blatant disregard' for the rights of the Dongria Kondh. The day of the victory reportedly saw £300 million wiped off Vedanta's share price.
Dr Jo Woodman, India campaigner for Survival, said today, 'Finsbury said they were convinced Vedanta's behaviour was 'best practice', but in the end they were the only ones saying so – everyone else, from expert committees to the government itself, was slamming the company's 'total contempt for the law'.
Stephen Corry, Director of Survival, said, 'Governments and companies abusing human rights often hide behind PR companies and spin doctors. It's a waste of public or shareholders' money: where human rights activists are uncovering the truth, it is inevitably exposed.'