Survival's new petition for Botswana Bushmen goes global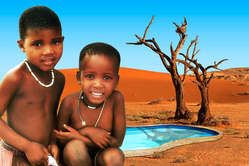 Survivals petition has gathered signatures from more than 100 countries.
© Survival International
A new petition calling on controversial holiday company Wilderness Safaris to move its luxury lodge off Bushman land in Botswana is gathering support from all over the world.
While the Central Kalahari Bushmen are banned from accessing water on their own land, Wilderness Safaris erected its luxury lodge, with swimming pool and showers, on Bushman land without first seeking their consent.
Stephen Corry, Survival's director, explained, 'As long as the Bushmen are banned from accessing drinking water on their own land, Wilderness Safaris needs to stay away. While their lodge stays open but Bushmen remain parched, Wilderness is effectively supporting the Botswana government's policy to drive the Bushmen off their lands.'
The petition has already gathered signatures from more than 100 countries, even though it was only opened a week ago.
A supporter from the UK, wrote, 'History will view your behaviour as shameful. The Bushmen and their tribes and families are a proud and magnificent people.'
Another supporter in Tanzania wrote, 'There is absolutely no justification for a supposedly eco tourist oriented company to build a lodge without the original land owners' full consent and participation.'
An American supporter wrote, 'I am mortified that the Botswana government would endanger the live of their citizens for a bit of money. Once tourists know the manner in which this land was acquired they will not want to visit.'
The Bushmen of the Central Kalahari Game Reserve in Botswana were evicted from their land by the Botswana government in 2002. The country's High Court ruled the evictions were 'unconstitutional' and 'unlawful' and that the Bushmen have the right to return home. However, many Bushmen are unable to do so because the government insists on denying them access to drinking water or permission to hunt for food.
Survival has also launched an international boycott of Botswana tourism, which is endorsed by celebrities including Gillian Anderson, Quentin Blake, Joanna Lumley, Sophie Okonedo and Mark Rylance.