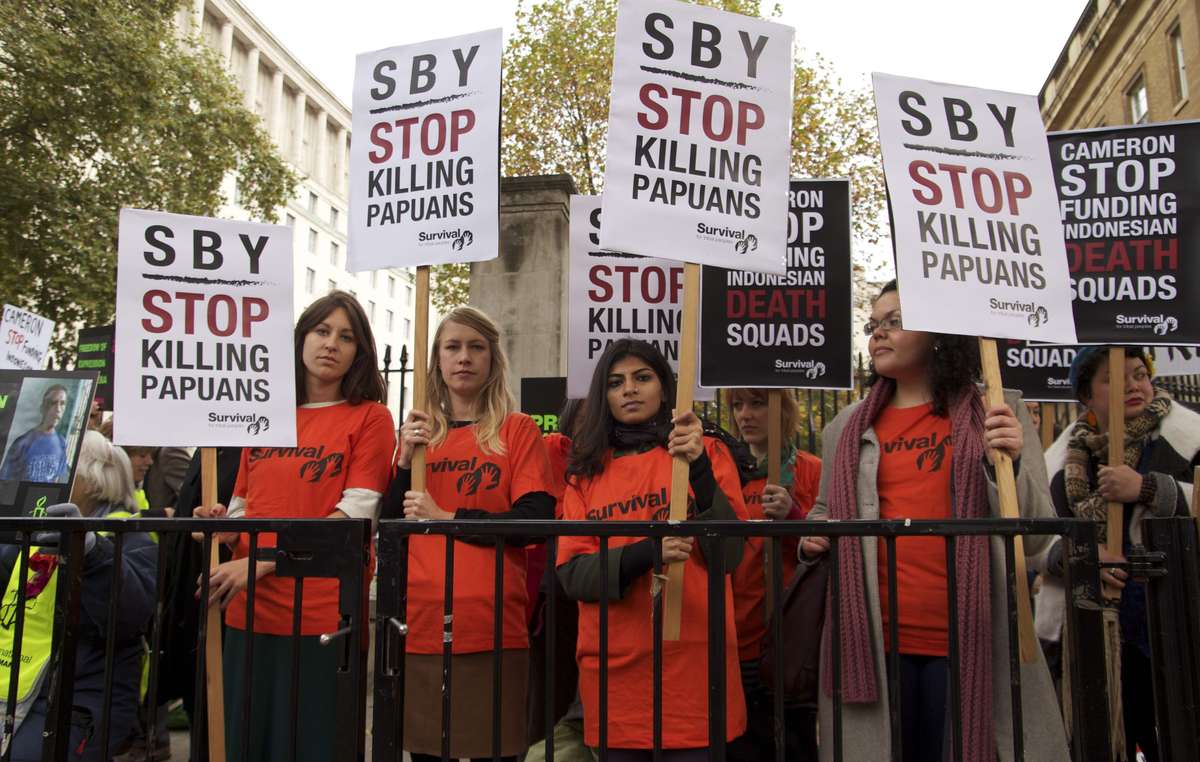 Dozens of protesters gathered outside Downing Street to mark the visit of Indonesia's President to the UK © Survival
A demonstration by Survival International and dozens of human rights protesters has marred the start of Indonesia's first state visit to London in 33 years.
Protesters held banners and chanted slogans outside the London residence of Britain's Prime Minister, in a peaceful rally against Indonesia's poor human rights record, its brutal repression of tribal people in West Papua, and UK links to a counter-terrorism unit implicated in the murder of independence leaders.
Susilo Bambang Yudhoyono (known as SBY) will stay at Buckingham Palace and meet ministers from the UK Parliament during his three-day visit.
The rally outside Downing Street attracted campaigners and supporters from Survival, Tapol, Down to Earth, Amnesty International and Free West Papua.
Survival held banners reading, 'SBY-stop killing Papuans', and 'Cameron stop funding Indonesian death squads'.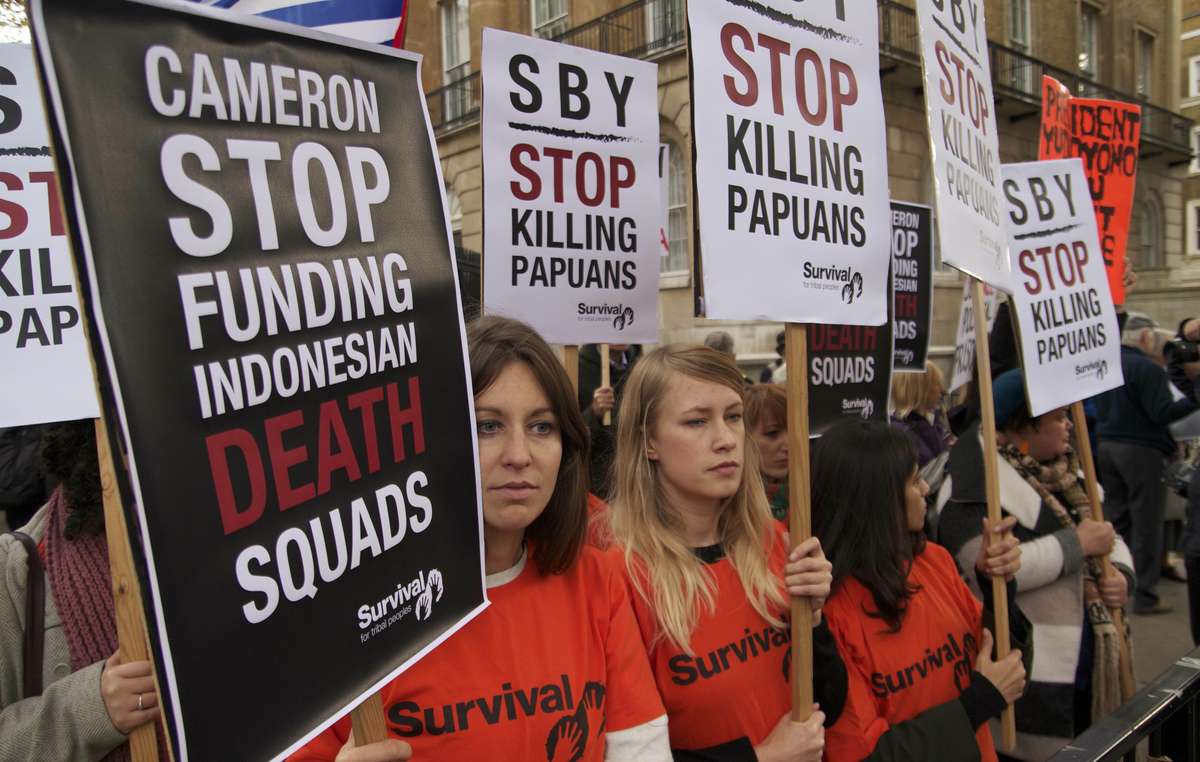 UK funding has been linked to an Indonesian counter-terrorism unit implicated in the murder of Papuan independence leaders. © Survival
West Papua has been ruled by Indonesia since 1963, and attacks against tribal and indigenous people by security forces are commonplace.
There are also growing concerns surrounding UK links to an Indonesian 'death squad', which has been allegedly deployed to suppress violently West Papuans who are peacefully seeking independence.
Special Detachment 88 was formed to combat terrorism after the 2002 Bali bombings, and receives funding for training from the UK, Australia and the US.
The UK's Counter Terrorism Programme spends hundreds of thousands of pounds training the force through the Jakarta Centre for Law Enforcement Co-operation.
Director of Survival, Stephen Corry said today, 'Today's protest sends a strong message to the UK government that it has a responsibility to challenge Indonesia over its appalling human rights record. Its treatment of tribal people in West Papua is unacceptable.'
Note to Editors:
Susilo Bambang Yudhoyono's state visit finishes on November 2.
Access a briefing document outlining the reasons for Wednesday's protest (pdf, 343 KB)
Images for download in high resolution: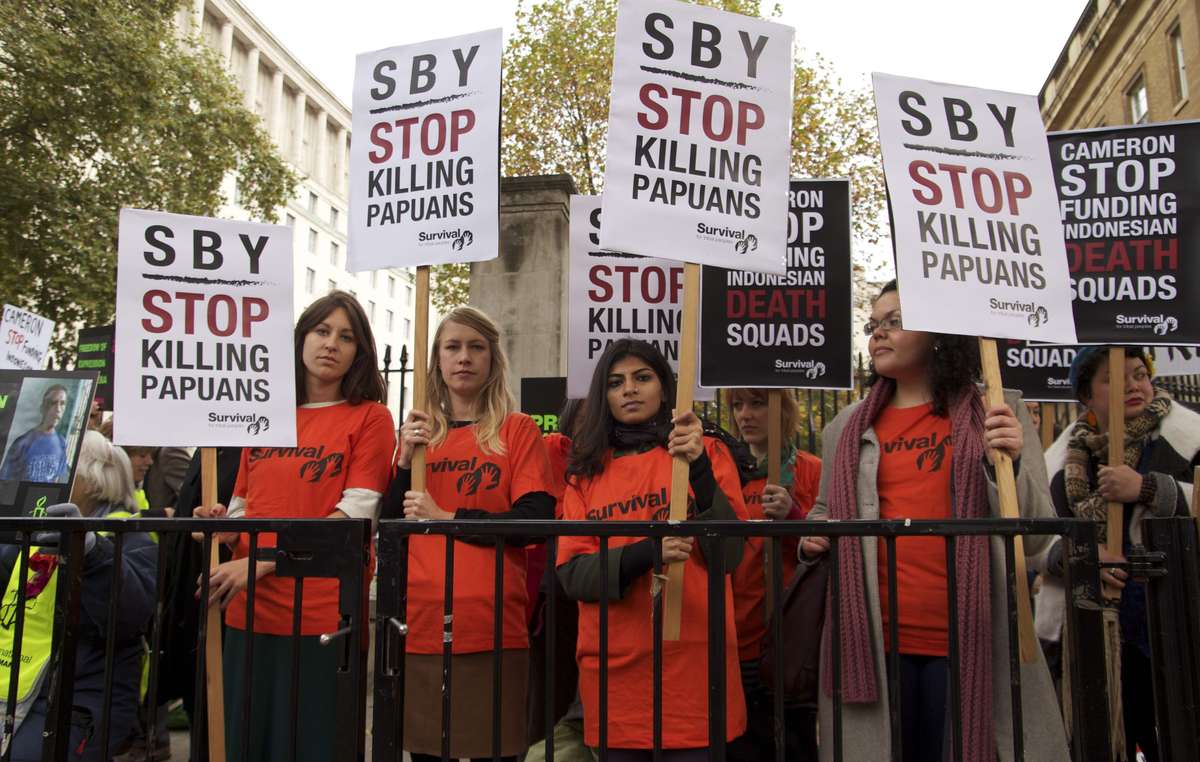 Dozens of protesters gathered outside Downing Street to mark the visit of Indonesia's President to the UK © Survival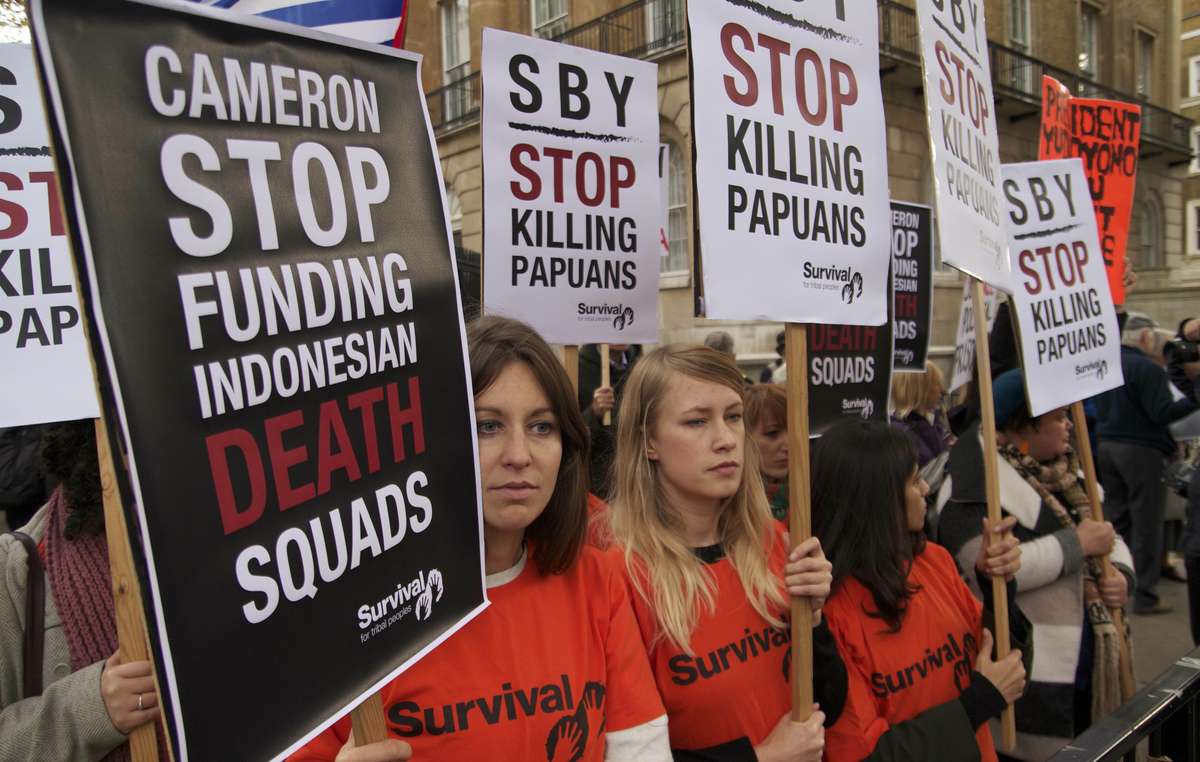 UK funding has been linked to an Indonesian counter-terrorism unit implicated in the murder of Papuan independence leaders. © Survival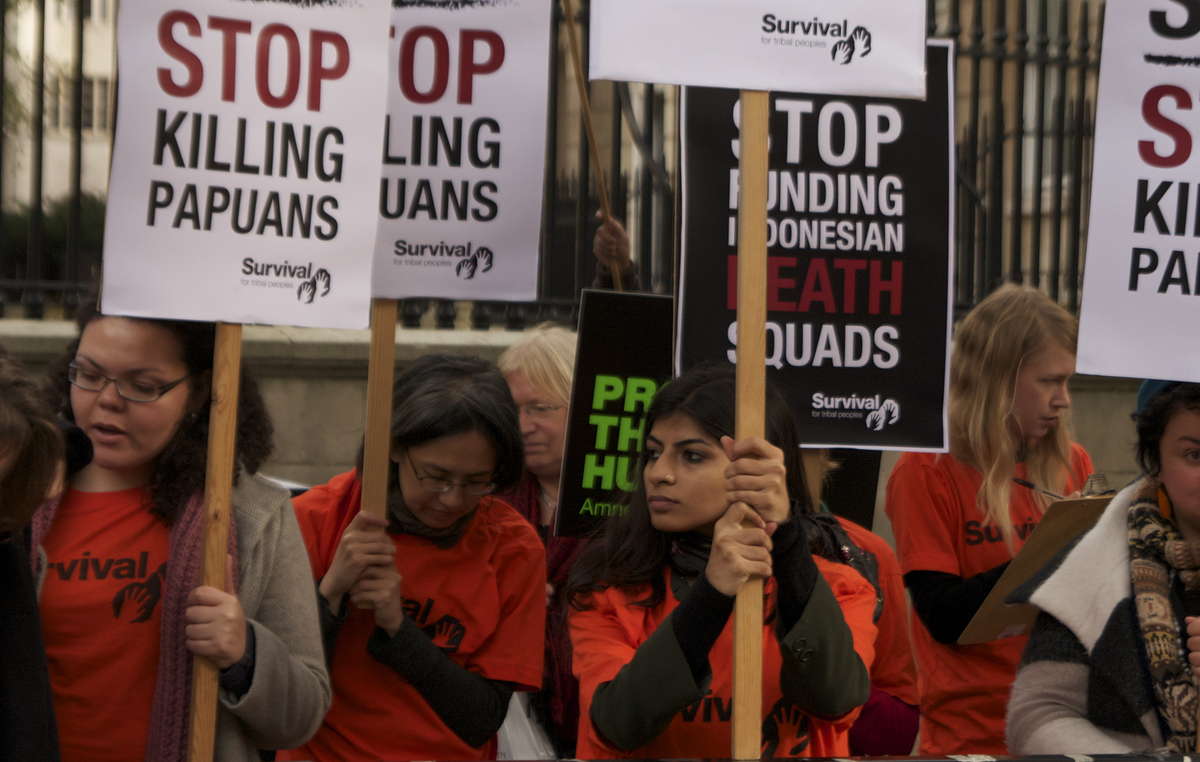 Dozens of protesters gathered outside Downing Street to mark the visit of Indonesia's President. © Survival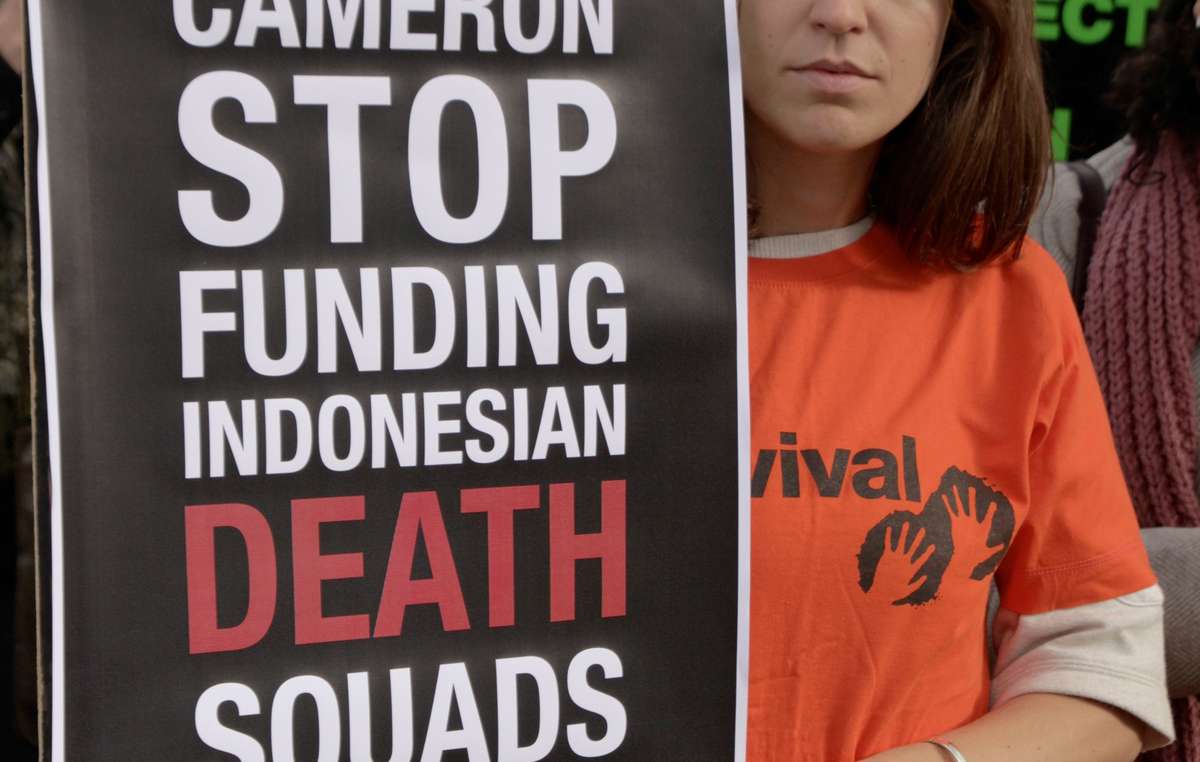 Protester holding banner reading 'Cameron stop funding Indonesian death squads' to mark the visit of Indonesia's President to the UK. © Survival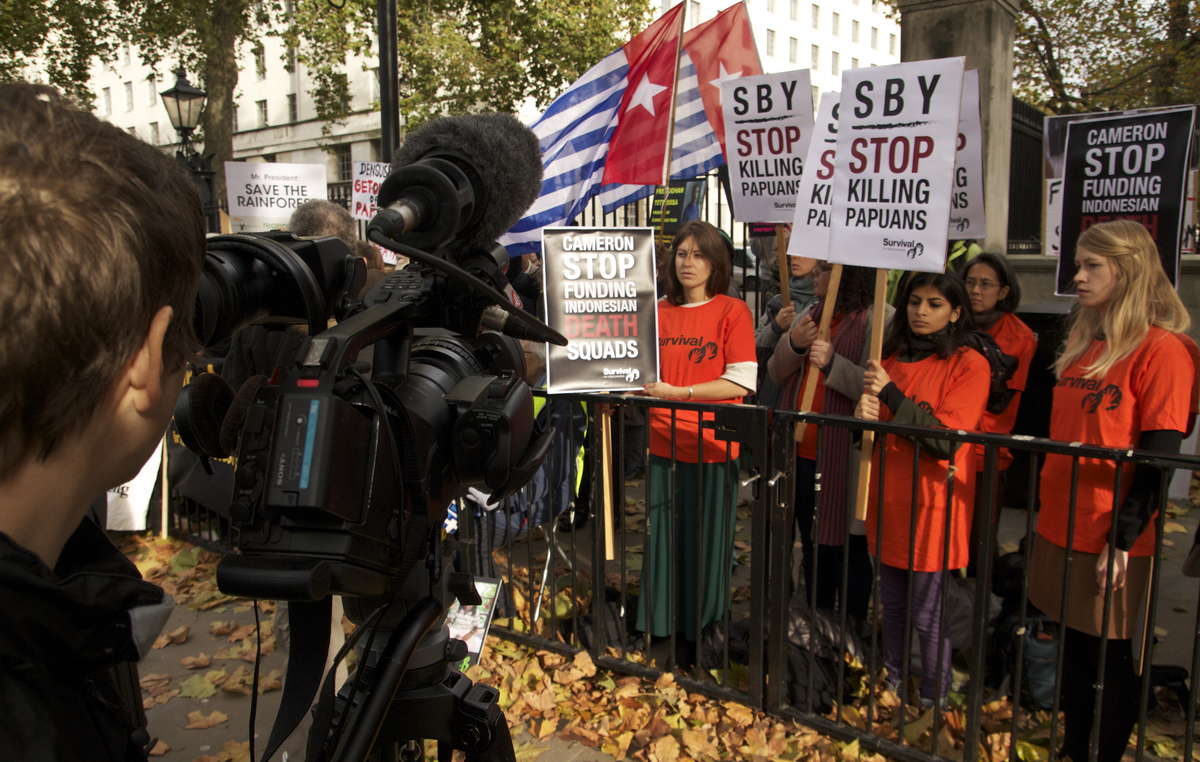 Protesters held banners reading 'SBY-stop killing Papuans', and 'Cameron stop funding Indonesian death squads'. © Survival