© Survival International
Only weeks after Survival International called for a boycott of Botswana tourism, two travel companies have suspended their tours to the country and several others have expressed concern about the Botswana government's continued persecution of the Bushmen. The government is stopping the Bushmen from hunting and forces them to apply for permits to access their ancestral land in the Central Kalahari Game Reserve (CKGR).
International tour operator Travelpickr joined Survival's boycott and said, 'We have canceled our pending [tour] requests for Botswana and informed the local tour operators about this boycott. We will suspend all tours and block tour requests to Botswana until the government in Botswana has improved the situation.'
Spanish tour company Horizonte Paralelo stated, 'We have joined Survival's boycott of tourism to Botswana. We think it's the appropriate measure in the face of the victimisation of Bushmen.  We are deeply troubled to read Survival's letter and learn about the degrading treatment of the Bushmen at the hands of the government.'
The news is a blow to the Botswana government, which has attempted to whitewash its image after it was condemned by several international bodies over its persecution of the last hunting Bushmen.
In the letter to tour companies around the world, Botswana's government spokesman Jeff Ramsay praised Botswana's 'uninterrupted record of upholding the principles of democracy, good governance and the rule of law for all citizens'.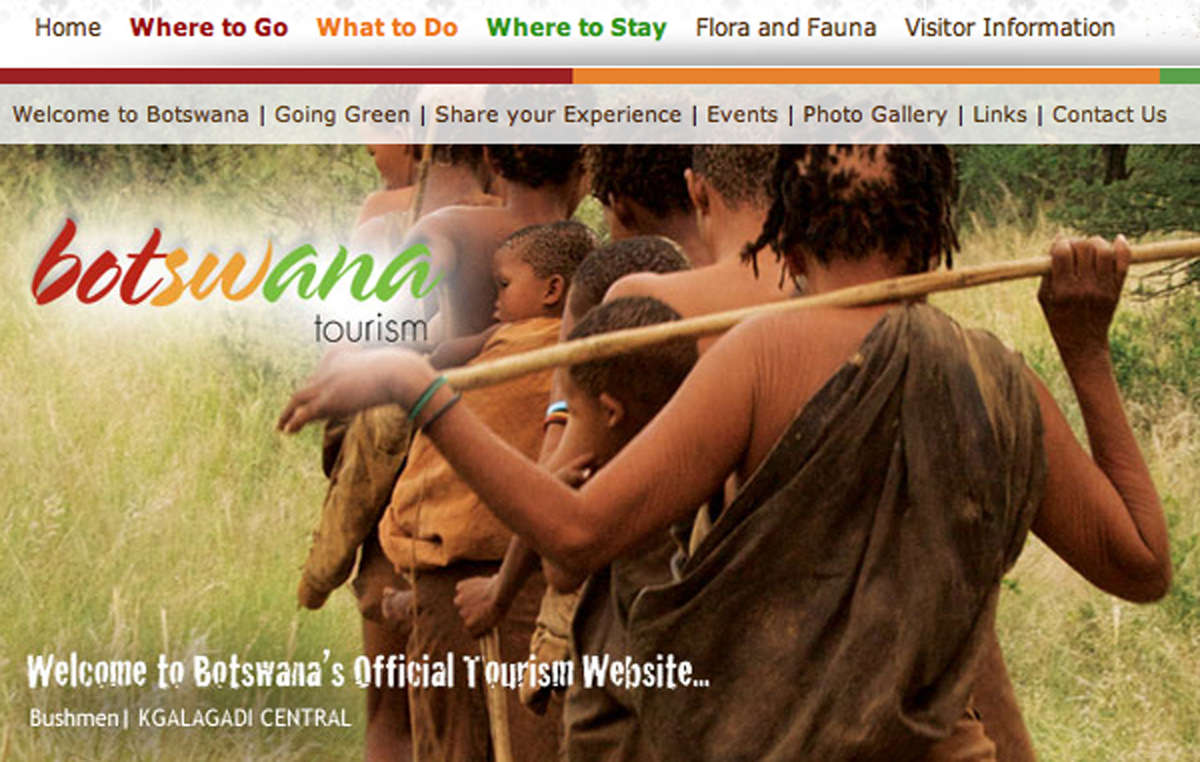 © www.botswanatourism.co.bw
But the Botswana government has repeatedly acted unlawfully and unconstitutionally in its treatment of the Bushmen. Despite losing two court cases which confirmed the Bushmen's right to live and hunt in the CKGR, it continues to persecute Bushmen for hunting – an activity essential for the tribe's survival – and prevents hundreds of Bushmen from freely accessing the CKGR by forcing them to apply for permits.
In his letter, Jeff Ramsay further attacked Survival's use of the term 'Bushmen'. However, the government's official tourism website also uses the term under an image promoting visits to the Central Kalahari Game Reserve.
Stephen Corry said today 'Ramsay's letter is a real own goal – here we have absolute proof that the president's spokesman is fabricating information for tour operators. It's an absolute scandal that the government uses the Bushmen's 'exotic' culture to promote tourism, at the same time as it is actively pursuing a vicious campaign to wipe them out.'
Notes to editors:
- Read the Botswana government letter to tour operators (pdf, 3 MB)
- Read Survival's full response to the government letter (pdf, 36 kB)
- Survival uses the term 'Bushmen' because members of the tribe generally prefer the term to other widely used terms such as 'Basarwa' or 'San', and because it is the most readily understood term by readers of English.